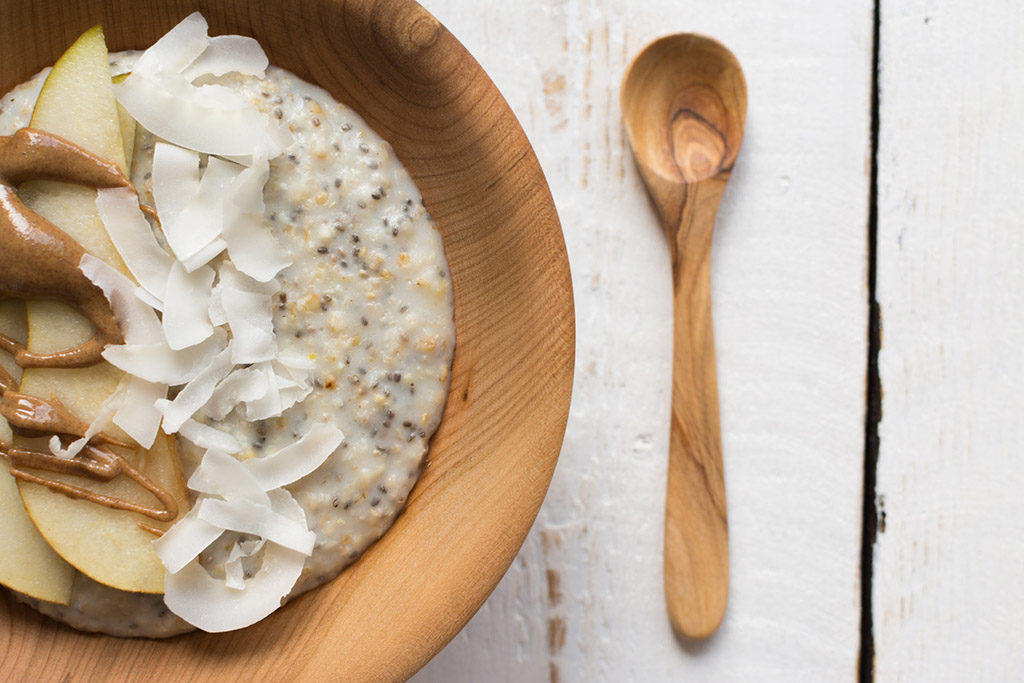 Ingredients:
1/2 cup white quinoa
1 tablespoon black quinoa
1 1/2 cup coconut milk
1/4 cup coconut flakes
2 large pear slices
2 tablespoons honey (optional)
1 tablespoon almond butter
Instructions:
Wash quinoa 3-4 times with fresh filtered water. This step is essential to prevent a bitter taste in quinoa.
Boil quinoa with coconut milk for 15-20 minutes over low heat until it thickens, add honey. Take into account that quinoa grows when it is cooked and quickly absorbs the liquid, so you must be attentive. It is easy!
Once you see a smooth texture, remove from heat and let it cool.
Once ready, you can serve with coconut flakes and sliced pears, remember to toss almond butter … YUM … delicious!
Properties:
Loaded with antioxidants
Anti-inflammatory action
Rich in vitamins and minerals
Helps reduce weight
Helps fight cancer
Protects the well-being of the heart, reduces cholesterol, triglycerides, and hypertension
Stimulates the proper function of digestive system
It stimulates the reduction of glucose, protecting you from diabetes
I'm inspired to share my healing journey here, and trust you'll find hope, encouragement and purpose as you discover the healing power that lies within you. Sign up to get notifications when I post a new article.