Morning Protein Boost – QUINOA BOWL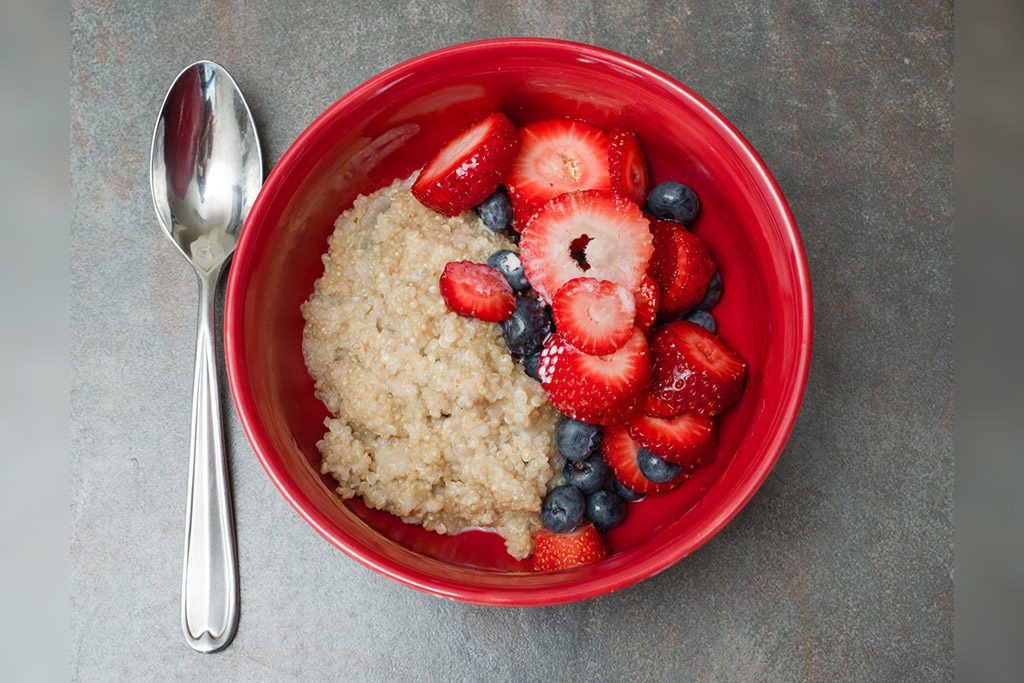 Ingredients:
1/2 cup white quinoa
1 1/2 cup almond milk
2 tablespoons honey or yacon syrup (optional)
1 piece vanilla extract
1/2 cup strawberries
1/2 cup blueberries
2-3 cinnamon sticks
Cinnamon powder to taste
Instructions:
Wash quinoa 3-4 times with filtered water. This step is essential to prevent a bitter taste in your quinoa.
Boil quinoa with almond milk for 15-20 minutes over low heat until it thickens. Then, put in the honey and cinnamon sticks. Make sure to keep an eye on your quinoa, as it will expand considerably from absorbing the almond milk.
Once ready, remove from heat, let stand, then serve. Dress it chopped strawberries, blueberries, and apricot seeds. Sprinkle cinnamon to taste, and enjoy!
Properties:
Anti-inflammatory properties
Rich in antioxidants, vitamins, and minerals (such as magnesium)
Reduces the risk of heart disease: reduces high cholesterol, triglycerides and blood pressure
Decrease blood glucose level
Helps reduce the risk of cancer
Helps to lose weight
I'm inspired to share my healing journey here, and trust you'll find hope, encouragement and purpose as you discover the healing power that lies within you. Sign up to get notifications when I post a new article.